The Las Vegas Raiders will play their first season in Las Vegas for the 2020 season. The NFL released the schedule on Thursday night. Unlike last season's schedule, this season schedule is more favorable for the Raiders.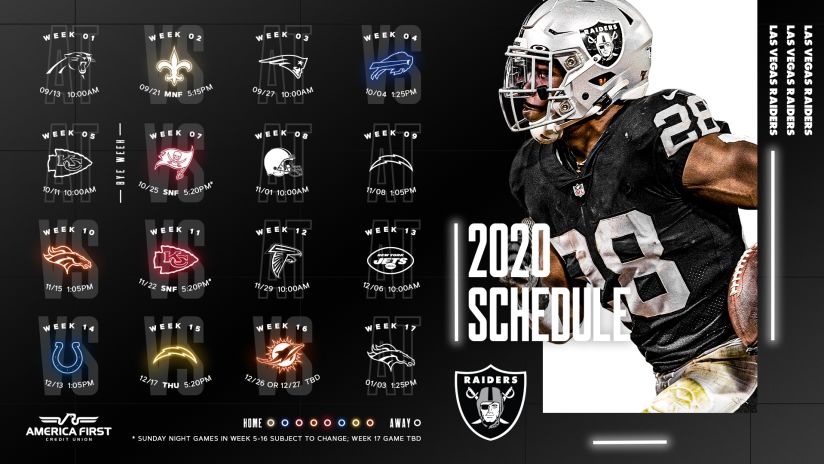 Primetime Games
The Raiders have four primetime games this upcoming season, and all of them will take place in Las Vegas. The first one is a Monday night game against Drew Bress and the New Orleans Saints. On October 25th, Tom Brady and the Tampa Bay Buccaneers come to Vegas to play a Sunday night game. For a change, the Raiders play the Kansas City Cheifs at home in November on the 22, which is a Sunday night game as well. Lastly, there is a Thursday night game against the Los Angeles Chargers completing the Raiders primetime schedule.
Early Morning Games
The Raiders play six 10 o'clock games, in years past, the Raiders have struggled going back east and playing the early games. Hopefully, with more talent on the team, the Raiders can be more successful in the early back east games.
Cold Weather
It looks like the Raiders will have only two cold-weather games so far. They travel to New York to face the Jets on December 3rd and play the Broncos in Denver on January 3rd for the last game of the season. Raiders quarterback Derek Carr is 0-6 in games under 40 degrees, and three of the losses came last season.
Home Sweet Home
In the middle of December, during the home stretch, the Raiders will play three straight home games. On the 13th, the Indianapolis Colts, then the 17th on a short week, the Chargers come to Vegas, and lastly, on the 26 or 27, the Raiders wrap up the home schedule against the Miami Dolphins.
It is a pretty good schedule for the Raiders, unlike last season when they went about two months without a home game. Hopefully, with an improved defense and more speed on offense, it will be a better season for the Raiders.