It used to not be a "major" deal when May rolled around and there wasn't professional hockey in Las Vegas. You know, back in the dark ages. In fact, other than the local Triple-A baseball team, it has basically always been reverse hibernation from the brutal desert sun. But, ever since the Vegas Golden Knights stole the hearts and minds of Sin City with their Stanley Cup Final run last year, the month of May feels empty without VGK hockey.
While some poor souls actually continue to watch the remainder of the NHL playoffs, so many more of us have sworn off watching the NHL until the next time the Golden Knights take the ice again this fall. Some out of bitterness and protest thanks to the worst "major" call in hockey history. Some out of hurt and anguish now that our city's favorite #VegasBorn child has been relegated to offseason whispers and potential trade rumors.
Whatever reason you may have, fear not! Just because the Golden Knights are enjoying their vacation a little early, it doesn't mean there aren't a plethora of ways to pass the time until the season opens in early October. From other promising professional sports here in town to killing brain cells, here are the top five best activities to take your mind off the VGK's controversial elimination from the playoffs.
1. The Las Vegas Aces WNBA team
While the Aces didn't make the postseason last year (thanks to a forfeit for advocating for player travel rights), the squad landed the first overall pick in this year's WNBA Draft. Already featuring the hottest new name in the league with franchise player and WNBA Rookie of the Year, A'Ja Wilson, the Aces were able to continue to add more talent around their leading scorer. The Aces drafted Notre Dame standout guard Jackie Young to help compliment Wilson and the rest of the Las Vegas-based squad.
The team opens its season at home in the Mandalay Bay Events Center on May 29 against the Los Angeles Sparks. With 6-to-1 odds to win it all, the 2019 season looks to be even more exciting in the team's second season in Sin City. The team returns Wilson (20.7 ppg, 8 rpg, 1.7 bpg) and guard Kayla McBride (18.2 ppg, 3.9 rpg, 3.5 apg), both of whom were WNBA All-Stars last season. The three-headed monster of Wilson/McBride/Young should be exciting to watch.
Coached by "Bad Boy" and former Detroit Pistons icon Bill Laimbeer, the Aces are in a great position to compete for the WNBA title. Even better, the 2019 WNBA All-Star Game comes to Las Vegas this summer on July 27, giving Las Vegas more summer sports entertainment.
"The WNBA is excited to bring WNBA All-Star 2019 to the Entertainment Capital of the World for the first time," said WNBA President Lisa Borders when the game was announced last summer. "Las Vegas fans have enthusiastically supported the Aces in their first season and will now have the chance to see the best players in the world compete on the same court next summer."
2. The Las Vegas Aviators Triple-A team
What used to be the Las Vegas 51s of Cashman Field has evolved into the Las Vegas Aviators of Downtown Summerlin. Now the Triple-A franchise for the O*kland Athletics, the Aviators took flight in their inaugural season earlier in April. Nothing says "Minor League Baseball" like sold out games, a bat dog, a massive jumbotron, a strong start by the team (although a recent rough patch brought them back to earth), quality food and extremely overpriced drinks and, most importantly, mesh seats to protect from a severe case of swamp ass.
Seriously, folks. The new Las Vegas Ballpark at Summerlin is a sight to behold. Gorgeous, convenient, plenty more to do within walking distance (not the same walking distance from Cashman Field under the I-15 overpass to Fremont Street, which is usually littered with some pretty eclectic personalities and the occasional crack dealer). With restaurants, a Dave & Buster's, a movie theater, a Trader Joe's and even an Apple Store, fans can leave the game knowing they can still grab groceries and a new iPad after watching the Athletics' top young prospects earn their stripes.
Opening Night at the Las Vegas Ballpark was an exciting moment for the city, fans and Ant-Man enthusiasts as the new Aviators mascot flew in via jet pack. Spruce the Goose is also there, and — thank goodness — he is nicknamed that because he's a goose, not because he likes to sneak up behind his friends to check their temperatures. Well, I can't confirm that, so you might stay vigilant for a bit around Spruce.
3. UFC 239: Jones vs Santos/Nunes vs Holm
Vegas is known for its spectacular title fights and, while we sit the rest of the NHL season out and watch their ratings drop like dogs balls, why not catch a UFC fight live? Sin City is home to the UFC and president Dana White (a Bishop Gorman grad). The home offices are just off the 215-South near Buffalo and this summer sees arguably the greatest (and most controversial) fighter of all time, Jon "Bones" Jones, returning to fight after being suspended time and time again by the Nevada State Athletic Commission.
Jones (24-1) will take on Thiago Santos (21-6) in a light heavyweight tilt while Amanda Nunes (17-4) gets after Holly Holm (12-4) at T-Mobile Arena. I know, I know. That means you'll have to return to the Golden Knights' home arena to watch the fight, but it doesn't mean you can't find a way to block it all out. Hell, if you can't, just ask the tribal tattooed gentleman wearing the Fox Racing hat to your left to give you a forearm shiver and spin your cap for a second. If you're bleeding from the eyes, you can't see the banners and reminders everywhere that the VGK got jobbed by the NHL officials.
Still, it's "Bones" Jones. PEDs or not, he's an all-time great and worth seeing live at least once.
2. Adult league hockey at City National Arena
City National Arena, when not playing host to the Golden Knights or UNLV Hockey, also welcomes adult league hockey, which has a summer league opening June 9th. What better way to forget the shit-ass "major" call on Cody Eakin for his brush-foul on San Jose flopper Joe Pavelski than to go out and hit somebody else (or be hit yourself)?
Get out on the ice and live vicariously through, well, yourself. Maybe, if you're good enough, Marc-Andre Fleury will draft you for his Yahoo Sports Adult League Fantasy Hockey team. Skate around a bit to clear your mind, then check some sorry sap into the boards and scream your loudest. Sometimes, just sometimes, a little physical release is needed to exorcise the demons the NHL created with their horrific and series-deciding "major."
One thing is for sure: This league won't apologize for a bad call like the NHL allegedly did after the bucket-o-chum decision its officials pulled.
1. Self-medicate at a local bar or dispensary
If you're trying to rid your mind of the horrific "major" infraction call and subsequent Golden Knights collapse, it's probably best you kill a few brain cells and do your best to forget it ever happened. Since booze and weed is legal in Vegas, jettisoning a few of those memories shouldn't be too hard.
The city has plenty of excellent bars. If you're looking for a classier place to get inebriated, stop by such local "off-strip" cocktaileries like Herbs & Rye, Atomic Liquors or The Barrymore (although barely "off-strip") to drink absinthe or a Corpse Reviver No. 2. If you want to drink cheap and in heavy quantity, definitely hit up PKWY Tavern, one of the eight billion PT's Pubs in town, The Blue Ox, or head over to the Double Down for some "Ass Juice."
The city also has what seems like a trillion dispensaries. With the new city ordinance allowing smoke lounges finally passing, you very well may be able to take Lyft somewhere and enjoy a casual smoke/vape/dab session amongst fellow connoisseurs. Check out Weedmaps or download the app for a Yelp-style marijuana experience.
You could even stop by Cannabition, a new museum focusing on cannabis reform and its evolution since the failed Nixon-era "War on Drugs" and even earlier. There's something for everyone, even lit nerds. Dr. Hunter S. Thompson and "Fear and Loathing in Las Vegas" fans can even check out The Good Doctor's "Red Shark," the famous authors 1973 Chevrolet Caprice. If you look deep into the car, with the right kind of eyes, you can even almost see the high-water mark — that place where the convertible top finally broke and rolled back. You can also see his old cigarette burns as well.
If drinking like former mayor Oscar Goodman or smoking weed like part-time Vegas resident Snoop Dogg isn't your thing, you can always eat your feelings. Las Vegas, while now a "major league city," is also one of the greatest culinary cities in the world. If food is your thing, check out Sparrow+Wolf, a restaurant featuring last year's Chef of the Year, Brian Howard (also known for his "Flydogs" at the Las Vegas Ballpark and Aviators games), Atomic Kitchen, or — if you're out near Silverado Ranch — Slater's 5-/50. I mean, who doesn't love bacon-infused burgers and ketchup? Want a steak? Hit up Morel's French Steakhouse & Bistro at The Palazzo or Emeril Lagasse's Delmonico's at The Venetian.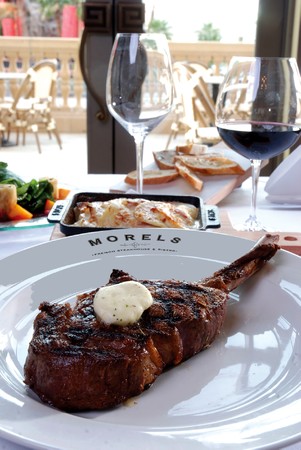 If you're feeling like some extra delicious Italian fare, get ready for Locale, the brainchild of popular chef Nicole Brisson and restaurateur Andy Hooper (co-owner of The Black Sheep, along with Jon Schwalb and chef Jamie Tran). The restaurant will reside at the new Mountain's Edge Marketplace in southwest Vegas and, Brisson's has a penchant for great meat, based on her history as the executive chef of both Carnevino and Eataly down on The Strip.
If you can't wasted to forget the Golden Knights' collapse, at least you can get meat drunk!