While the top NBA organizations are battling to the death in what has been an entertaining playoff thus far, the bottom 14 are scouring their draft boards looking to find their next franchise player.
The more time that passes, the more over analyzation and nitpicking occurs. Other than the obvious, such as Zion or Ja Morant, certain players draft stock rises and/or falls with each day that passes. Darko Milicic is probably still thanking these same experts because without them, it is tough to say if he would be living out his dream of owning an apple farm in Serbia today
The latest mock draft 8.75648 that was posted by Bleacher Report earlier this week gives us the most up to date guesses on how June 20th will shake up. Under the assumption that the lottery will pan out as the percentages go, Jarrett Culver is the front runner to become the Bulls pick at #4.
Culver exploded onto the scene this past season and really made himself a household name all throughout America. His strong push in March was a big factor in Texas Tech making its first-ever NCAA championship appearance and even had Bobby Knight throwing chairs and screaming in excitement for his former school.
Culver ended the season with 18.5 PTS, 6.4 REB, 3.7 AST on 46.1% shooting. Here are some comments that are circulating about him that go beyond the simple numbers and metrics.
"His IQ and feel for the game is off the charts," NBA Draft expert Sam Vecenie of The Athletic told Dime. "The shooting is good, the passing is good, he has a great handle in straight lines, he has a solid crossover game and creates separation going backward. I don't know that I would say he's terrific with gaining separation going forward. But overall, I mean, I have Jarrett Culver number four on my big board. A lot of the questions are more like splitting hairs on, "Is this guy going to be a starter?" vs. "Is this guy going to be a top 30 player in the NBA?"
And with further investigation on the prospect, here is what a meatball Chicago Bulls fan had to say about Culver potentially being drafted by them.
"I swear to Christ if we don't get Zion or Ja in this draft, I'm going after Gar/Pax . The only thing I want to hear after Culver is would you like a small or large fry with your Butter Burger?"- Nick Zawaski, Chicago's Sports Mockery Blogger
That last sentence of the first quote makes me CRINGE. The more articles I read on Culver, the more I see comments like that. People are unsure of him, and then they throw comments out like "High IQ", "Loves The Game", "Hustle", etc. Fucking spare me, Lafleur.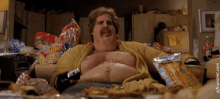 These aren't things that I want to hear about our potential #4 pick of the draft. Those are attributes you tell a 5 foot 9 white kid in high school to make him feel better about getting dunked on repeatedly by mammoths like Zion. And not being all that great at creating separation? That is a fairly pivotal quality in determining if a player can make it at the NBA level. Ask Jimmer Fredette how not being able to get separation for his shot at the NBA level worked out for him.
Before I get too worked up, this obviously is not set in stone. The lottery balls will not be rolling for another month, and I have a feeling the basketball gods won't let the city of Chicago down.
New York? They deserve a break honestly, but would still find a way to ruin Zion's career.
Cleveland? The Browns have the floor now to be their team to love and cry about for a while.
The Suns? Feels like they have had a top 3 pick the last 7 years and can't seem to put it together, maybe it's time to show them a little tough love.
The Bulls? Yep, you guessed it, it is time for us to have an offseason to remember and restore this franchise to its former prominence.
Jarrett Culver is becoming very highly regarded by many, but in my opinion, he is not going to be the guy that will propel this team to the next level. Top 4 picks in the draft are supposed to do that, and I just don't see it in him.
Oh, and in case you haven't heard, our buddy Zion won every year-end award possible, so here is another highlight real to get you all hot and heavy about watching during the work day.