Have you ever seen a rickety, old roller coaster? One that is slowly wearing away due to erosion and overuse. Well, that's what I see nowadays when I look at my Chicago Blackhawks. They are an outdated wooden roller coaster with planks missing, some broken seat belts and safety restraints, and a few screws loose. Then, you cut the brake lines and you have the Blackhawks' 2018 portion of the 2018-19 NHL season.
2018 Blackhawks' Cliffnotes
2018 was certainly an interesting year for the Blackhawks and that's putting it mildly. They had a promising start to the season with a 6-4-3 record through the month of October. Shortly after that is when the foundation of the team officially imploded and everything came crashing down. On November 6, 2018, the Blackhawks fired the legendary Coach Q after a historic ten-year run which brought three Stanley Cups to Chicago and made the Blackhawks relevant again.
A new head coach, two eight-game losing streaks, another Corey Crawford concussion, and we're just about caught up on the 2018 portion of the current season. Although, the Blackhawks have recently begun to turn things around. In the last ten games, they went 6-3-1, and finish 2018 off with a 15-21-6 record.
With anything, there will always be some bad that comes with the good. The Blackhawks' 2018 has tons of blurred lines and the "good" would have been considered mediocre a few years ago during the decade-long Stanley Cup run, but that's where we stand. This is the unfortunate truth, but I'm here to help you embrace it.
The Bad
Let's get things started by diving headfirst into the murky waters of the bad parts of 2018 with the Blackhawks. The most obvious Blackhawks badness begins with the "defense", or a lack thereof, I should say. The Blackhawks are currently sitting at a -32 goal differential. That number speaks for itself, but it's not entirely the defensemen's fault.
StanBo knew about the defensive struggles last season and did nothing to improve the team's situation. In fact, he actually contributed to the defensive shortcomings. The Blackhawks got significantly worse with the offseason "additions" of the Bad Brandons, Manning and Davidson. If you combine the surplus of 3rd pairing defensemen with the Connor Murphy and Gustav Forsling injuries to start the year and an aging Duncan Keith and Brent Seabrook, you get a defense that was set up for failure.
As the season went along and the team became more familiar with new head Coach Jeremy Colliton, and his new schemes, the defense actually became much more respectable.
Erik Gustafsson went from being a healthy scratch earlier this season to Keith's linemate on the top defensive pairing. Upon the return of Murphy and Forsling to the lineup, the defense saw a boost in production and effectiveness. When you also add Carl Dahlstrom to the mix, you get a Top 6 that can somewhat hold their own.
If you want to say limiting the opposing teams to 35+ shots on net instead of 40+ shots on a nightly basis, then sure, they can somewhat hold their own.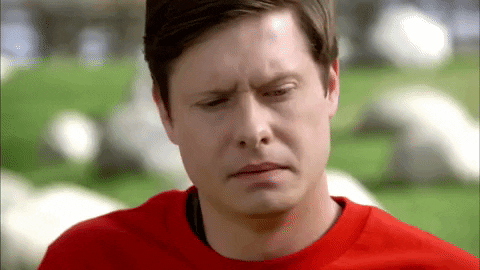 The Good
As we continue on towards the good end of the Blackhawks' 2018 spectrum, it brings us to some very familiar faces. Two players that everyone knows, Jonathan Toews and Patrick Kane, are having solid bounce-back performances this season. Jonathan Toews is doing it in classic Toews fashion by flying under the radar. Toews currently has 36 points (16G, 20A) through 42 games this season.
Jonathan Toews has had a sneaky good year thus far. Toews is tied for 47th in points with 36 points (16G, 20A) through 42 games. pic.twitter.com/IR1TbMpzZf

— ✶ ✶Tony Gianares✶ ✶ (@Certified_TonyG) January 2, 2019
Toews' partner in crime, Patrick Kane, is playing so well that I honestly believe he still has not hit his peak yet — as a 30-year-old in his 12th NHL season.
Patrick Kane, Jonathan Toews, and Alex DeBrincat are carrying the team offensively.

Kane is currently 9th in points with 50 points (22G, 28A) through 41 games. Kane is also 11th in goals scored. pic.twitter.com/9Fi1PTVqxX

— ✶ ✶Tony Gianares✶ ✶ (@Certified_TonyG) January 2, 2019
Toews and Kane have had a helping hand this season. This season, Alex DeBrincat has stepped up as a third viable scoring threat for the Blackhawks.
Alex DeBrincat has had a solid year as well. DeBrincat is currently has 33 points (18G, 15A) through 42 games and is 29th in goals scored. pic.twitter.com/7DAoW78PeM

— ✶ ✶Tony Gianares✶ ✶ (@Certified_TonyG) January 2, 2019
DeBrincat started the season hot, cooled off for a bit, and has recently caught fire again after being moved to the 3rd line with David Kampf and Dylan Sikura. He has racked up 10 points (7G, 3A) in the last 10 games.
Last, but surely not least, is the new kid on the block. Collin Delia has been the Blackhawks' knight in shining armor this season and he could not have arrived at a better time to save the day.
With Corey Crawford out for an undetermined amount of time, Collin Delia will be called upon to carry his fair share. So far, he has answered that call and then some. Delia's stats through 3 starts this season,

3-0-0
1.67 GAA
.957 Sv% pic.twitter.com/9hkJDQF4Yp

— ✶ ✶Tony Gianares✶ ✶ (@Certified_TonyG) January 2, 2019
The Ugly
Corey Crawford sustained another concussion on December 16th against the San Jose Sharks, thanks to a scumbag play by Evander Kane.
Alternate angle of Evander Kane pushing Dylan Strome into Corey Crawford… 🙄🤬😭😭😭 #Blackhawks #CHIvsSJS #HockeyTwitter pic.twitter.com/vpNYlXhMRp

— ✶ ✶Tony Gianares✶ ✶ (@Certified_TonyG) December 17, 2018
We may have seen the last of Corey Crawford in a Blackhawks' sweater, and to be frank, the way it happened pisses me off. I also hate the way the Blackhawks have gone about hiding Crawford from the public eye for both of his concussions. He deserves a better send off than through another concussion. If we have seen the last of Crawford, then at least he can ride off into the sunset knowing he has had an extremely successful NHL career.
I know Crawford might not want to "hang 'em up", but it might be the best option for him at this point. Brain injuries are scary as hell and he already missed about ten months with his last concussion. He also has a young child and a life outside of hockey.
Personal health should always be your number one priority. I hope he takes all of the time he needs, gets properly diagnosed, and really weighs his future options. Until we get an official word on his status, my thoughts and prayers go out to Corey and his family in this truly trying time.
With that being said, this has been the Good, the Bad, and the Ugly of 2018 Blackhawks edition. I can't wait to see what the second half of the season has in store for us fans.
For more Blackhawks news and updates, follow the author @Certified_TonyG on Twitter.