Close to 18,000 fans each home game, "Beat LA" chants for a preseason game, and "The Flower" making his usual acrobatic saves. Those are just some of the things that caught everyone's attention as the Vegas Golden Knights finished off the preseason with a 5-2 win over the Sharks Sunday night.
The Knights went 6-1, scoring 34 goals in those seven games, while only allowing 16. Not too shabby. So what are some standouts from this preseason?
Let's get to it!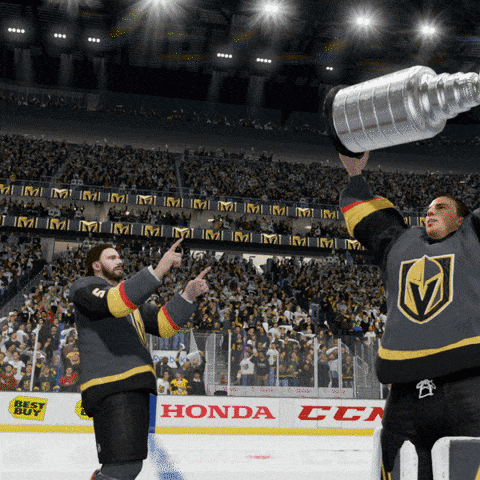 Tomas Nosek: From 4th line to 2nd line?
It was something not too many people saw coming. The 26-year-old winger quietly killed penalties and worked on the fourth line last year. Nosek showed his skills in the playoffs putting up four goals in 17 games. Head coach Gerard Gallant wanted Nosek to work on his speed this offseason, and he has done just that. His first preseason game he played on the top line with William Karlsson and Jonathan Marchessault, and was the beneficiary of three assists that night.
An undisclosed injury to Alex Tuch in the middle of the the final preseason game left a vacant spot on the second line with Max Pacioretty and Paul Stastny. That proved to be a good line juggle for Gallant, as Nosek potted two short-handed goals. It remains to be seen how long both ATuch and Erik Haula are out of the lineup for (which is not expected to be very long), but Nosek is giving Gallant something to think about with his play this preseason.
Marc-Andre Fleury is back
"The Flower" was on full display Friday night against the Kings, posting a shutout and earring a 2-0 victory for the VGK. Fleury stopped 26 shots from the Kings, including this beauty of a toe-kick save to keep the Kings from tying it late in the third period.
The flower would continue to bloom Sunday night, facing what will be for the most part the starting lineup for the Sharks. Fleury stopped all even-strength shots on goal by the Sharks, and stopped a total of 33 out of 35 shots on goal. If this is any indication of how Fleury will play this upcoming season, hopefully Vegas fans will be getting more of these this year.
The "Brandwagon" will have to wait a little longer
With Shea Theodore out for most of the preseason, it provided players such as Jake Bischoff and Erik Bransstrom to play quality minutes on the blue line. Brannstrom was the talk of the preseason for the first four games, between his dirty shootout winner against the Sharks, his swift passing in Colorado, and overall playmaking skills on full display.
It was rather shocking when the team decided to send Bransstrom, a first round draft pick from a year ago, back to AHL Chicago Wolves. Just as the "Brannwagon" was about to get moving, Jake Bischoff slowly but surely proved why he should get a look at the NHL level. Don't worry Brannwagon fans, we haven't seen the last of Brannstrom.
Let him develop and get more quality minutes because there is no need to rush… yet.
It has been well documented the atmosphere at T-Mobile arena is unlike any other in all of hockey. But for a preseason game? Yeah, even that too. The VGK faithful packed each home game with over 17,500 in attendance each game, practically a sellout. The players, and coaches took notice.
"It was like the playoffs. It was unbelievable. I've still got goosebumps," @GoldenKnights' Max Pacioretty said. "It was just as I remembered it when I played here (last) season" #VegasBorn https://t.co/Zk4ZRq2wTN

— Las Vegas RJ (@reviewjournal) September 17, 2018
VegasStrong: Playoff atmosphere even for preseason games
Speaking of Pacioretty, the offseason trade is already starting to show to be a great move by 2017-2018 GM of the year, George McPhee. "Patches" has already scored four goals in five games for the Golden Knights, and seems to have found home working with Stastny on the second line.
VGK "Final" 23 man roster (Things may change before Thursday)

Karlsson, Marchessault, Smith, Stastny, Pacioretty, Tuch, Haula, Carpenter, Lindberg, Nosek, Bellemare, Reaves, Carrier, Engelland, Miller, Theordore, McNabb, Holden, Merrill, Hunt, Bischoff, Fleury, Subban

— SinBin.vegas (@SinBinVegas) October 1, 2018
The Golden Knights enter the year with 8-1 odds to win the Stanley Cup, yet the haters are already saying how they are not even going to make the playoffs, and how last year was a fluke. We shall see about that. All I see though is a competitive, talented, and hungrier team from last year. That should scare the rest of the NHL.
#VegasBorn