Here we go again, Raider Nation. Buckle up. Coach Chucky might have one more shocking trick up his sleeve with reports of Pittsburgh Steelers running back Le'Veon Bell on the trade block. The Raiders, with four first round draft picks the next two years and $17 million in cap space heading into Week Two of the 2018 season, are now 10-to-1 odds to make a trade for the elite ball carrier.
Sure, the Raiders have Marshawn "Beast Mode" Lynch but, just like the Chicago Bears when the Raiders made malcontent Khalil Mack sat out and was made available, the Raiders could pounce and snag arguably the best running back in the league as he sits out his contract dispute. With the standout performance of Steelers fan favorite James Conner in Bell's absence this week, perhaps a deal like this wouldn't even cost the Raiders the 32-year-old Lynch, who is sure to retire this year or next.
Bell, on the other hand, is still just 26 and entering the best years of his prime. To deal for a workhorse like Bell would set the Raiders up for years to come, long after they've left Oakland and moved to Vegas. Entering his sixth year in the league, Bell has accrued 5,336 rushing yards and 2,660 receiving yards. That includes 2015, when he played only six games due to injury.
There hasn't been a better ball carrier in the league The last half decade better than Bell.
How is this possible?
Well, with ample cap space and a ton of draft picks from the Mack trade, the Raiders are one of just seven teams with enough cap space to handle the load of what could be the richest running back contract in league history. He won't come cheap but, when a back of this caliber becomes available, you pounce.
If (and it's a big if) the Steelers decide to trade Le'Veon Bell rather than ride out 2018, only 7 teams — Browns, Colts, 49ers, Texans, Titans, Jets, and Raiders — can afford his ~$14.5M cap hit. That doesn't mean others couldn't do deal, but they'd have to clear space too.

— Jason B. Hirschhorn (@by_JBH) September 5, 2018
Fans were all over general manager Reggie McKenzie the last few weeks because of the perceived one-sided nature of the Mack trade. What better way to turn some heads (in a good way this time) than to make a splash like this? They have the money and the means, but do they have the guts? Previous experience says yes.
Don't think for a moment Gruden isn't sitting at home, like Randy Marsh, admiring his balls for trading a future Hall of Famer. He's always eager to show them off, and this kind of trade would simply add to their legend. Word is, he isn't even using regular transportation in O*kland.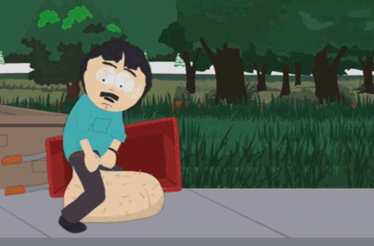 This front office traded Mack, who is arguably the best defensive player alive and cut wide receiver Martavis Bryant when a potential substance abuse suspension was forthcoming, only to resign him on Sept. 11.  After the embarrassing season opener on Monday Night Football, which saw the Raiders taking a beating 33-13, the Raider Nation needs something to buzz about.
Throw the fans a frickin' bone here
They're pissed. They're unstable. They're ready to throw David Carr overboard already. Raiders fans are on tilt. They need something to rally around. Mack kicked ass in his Bears debut, Carr looked like his brother David and the defensive front didn't record a single sack or hit and posted just two quarterback pressures.
Needless to say, things didn't go well for new head coach Jon Gruden in his return to the sidelines.
Derek Carr sucks. Still. Jon Gruden sucks. Still. They're both really rich.

— bawb. from online. (@_bawbfromonline) September 11, 2018
Reporter: Coach Gruden what do you have to say regarding your loss to the Rams.

Jon Gruden: What I think? I think I'll be back in that Monday night football booth, before this season over. pic.twitter.com/6iKoX0ca6P

— ☆ Not Zeke™ ☆ (@NotZeke_) September 11, 2018
A move like this could really get the positivity flowing for the fans. If you can keep Lynch, even better, but he's long in the tooth and it's a business, after all. He came home to play in Oakland but, if he loves Oakland so much, he'd accept this to help the city too. Well, maybe not, but Beast Mode in the Steel City would also be fun to watch.
When the temps drop and the weather shifts, he's the perfect bulldozer to plow through opposing defenses. Of course, a perfect scenario would be trade the draft picks and keep Lynch since Conner played so well in Bell's absence while he sits out. Probably won't happen, but it would make for an interesting Thunder-and-Lightning combo.
Come on, Gruden…the fans need this. Give them something. Please.