If you haven't heard the name yet, Las Vegas, it's time to learn it. Meet Las Vegas Aces point guard Kayla McBride — catalyst and veteran team leader for the city's new WNBA franchise.
There is much to be said about the 5-foot-11, 26-year-old shooting guard. Absent at the beginning of the season while playing overseas in Turkey, McBride joined the squad in late May after missing the first two games of the season, helping lead the Aces to its best stretch of play since it moved to Sin City.
The Notre Dame product is one of the Aces' seasoned veterans, playing in the WNBA since 2014. She is averaging 19 points per game with 3.7 rebounds and 2.8 assists per game.  Teamed with surefire Rookie of the Year candidate A'Ja Wilson, the duo have become a "dynamic duo" for the Aces, who have already matched last year's win total in San Antonio before the team relocated to Vegas.
Selected third overall in the first round of the 2014 WNBA Draft by San Antonio, McBride the is the longest tenured player on the team sitting, with four years of service time. McBride has much to offer this team in a leadership role.
"I've been working for this moment," McBride told the Review Journal. "Now that I'm in Vegas with a clean slate and a great coach, a great situation. I'm just trying to take advantage of it."
Her teammates, especially Wilson, defer to the veteran when it comes to leadership.
"I call her my vet," said Wilson in the same story. "She really keeps me sane through games. … When I'm having a bad game, or missing a shot, I can always count on K-Mac."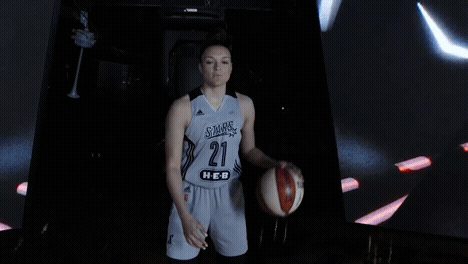 Even best-selling author Shea Serrano in on the Kayla McBride Bandwagon. The Ringer writer has been a vocal supporter of McBride, even lobbying a massive voting campaign to help get the Vegas standout a spot in the WNBA All-Star game.
idk and idc
i'ma vote over and over and over again until the @WNBA has so many votes for her that they have to have two all-star games the regular one and The Kayla McBride All-Star Invitational https://t.co/mCN442d3Hw

— Shea Serrano (@SheaSerrano) July 8, 2018
we're either getting her into the all-star game or we're rioting through the streets of america — one of those things is happening — you decide @WNBA

Kayla McBride #WNBAVote https://t.co/KOpjcKLtED

— Shea Serrano (@SheaSerrano) July 8, 2018
i personally believe you and me are gonna go in the parking and fight#WNBAVote
Kayla McBride@WNBA https://t.co/FAD5a1NgoC

— Shea Serrano (@SheaSerrano) July 10, 2018
What can we say? The dude loves the Aces — and The Office — like a Vegas high school kid loves Raising Canes.
Here's @SheaSerrano, @LVAces super fan. pic.twitter.com/pAbMvf4Hq6

— Kevin O'Connor (@KevinOConnorNBA) July 8, 2018
McBride seems to constantly improve her game every season. In her college days at Notre Dame, she averaged 8.7 points per game her first year and kept moving up from there. Unfortunately, she was pulled from her first year of college play due to academic reasons thus only playing in 19 games that season.
The heady guard quickly got back to work and in her second year, averaging 11.6 points per game and 15.9 points per game her junior season. During her fourth and final year at Notre Dame, she averaged an impressive 17.9 points per game and was named first-team All-American and one of five players inducted into the school's Ring of Honor on Nov. 11.
Every year of McBride's college tenure, she reached the Final Four and played in the championship game four times.
The transition to the WNBA has been seamless for McBride. She averaged 13.0 points per game then 13.8 points per game her second season. She was having her best year yet in 2016 but a foot injury sidelined her for the season. Coming back from injury for the 2017 season, her fourth WNBA year she averaged 15.4 per game. She seems to continue to improve her game as seasons go by and proves that she is a force to be reckoned with.
McBride has a built hefty list of accolades to her name as well. She played with three teams as an overseas player in the EuroLeague. In 2014–15, McBride played with Uniqa Sopron of Hungary, then with Nadezhda Orenburg of Russia in 2015-16 before finishing with Yakın Doğu of Istanbul Turkey in 2016-17 and 2017-18. McBride was able to capture a Turkish Cup and Euro Cup in 2017.
Kayla has one WNBA All-Star appearance thus far (2015). She contributed 18 points in the Western Conference's win yet she has only been part of one postseason run in her career. No doubt, she is looking to improve in that category as well.
All in all, McBride is a three-point shooting slasher, posing quite the threat. The pairing of McBride and Wilson has been a major catalyst for the Aces both offensively and defensively. Just a few games back in the standings with plenty of season left, look for them to keep gelling and make some big waves the rest of the season.
With things seemingly on the rise for the Las Vegas Aces, the savvy vet might see her second All-Star nod this year. Even if she gets snubbed, there's no doubt — here in Las Vegas — McBride is a welcome addition to the Sin City sports community. If you didn't know McBride before…now you do.