The Las Vegas 51s' season can be summed up in two chunks thus far in 2018: B.A.M. (Before Alonso/McNeil) and A.A.M. (After Alonso/McNeil). When Peter Alonso and Jeff McNeil were called up June 16, the 51s sat in the basement of the Pacific Coast League with a 28-40 record. Since? Las Vegas has ripped off 13 wins in its last 19 games, scoring 131 runs during that span. Needless to say, the Alonso-McNeil addition has paid dividends.
As the No. 2-ranked prospect in the New York Mets organization, Alonso was a no-doubter when he was called up. McNeil, on the other hand, was still a question mark. The former 12th round selection has battled injuries the last few seasons, playing in just 51 games in 2016 and 2017. His production since being called up has been nothing short of spectacular. The duo are a major reason the 51s have been heating up with the desert air.
McNeil's tear has been impressive. Since the call-up, McNeil has hit safely in 17 straight games and 18 of the 19 games he's played. The dude is batting .410 with four homers, 20 RBI, seven doubles and 15 runs scored. Not bad for someone who wasn't afforded the luxury of being a bonus baby. He's had to earn every look he's received and now everyone is noticing.
"People kind of finally know who I am," McNeil recently told the Las Vegas Review-Journal. "I know I haven't really been a top prospect ever. I know I've been a good player. I've produced every single year, so it's kind of cool to see fans and everything talk about it but at the end of the day, you've just got to keep playing baseball."
Here is actual footage of McNeil walking into the ballpark every day.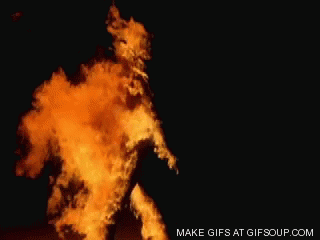 All jokes aside, with this summer being the last in Cashman Field history for the franchise (the rumored soon-to-be "Aviators" move to Summerlin next season), a good sendoff is just what the fan base needs to inspire them to make the drive to the fading ballpark. At some point, Alonso and McNeil may be joined by former Birmingham Rumble Ponies teammate Tim Tebow, who was recently named to the Eastern League All-Star team.
While his average is down as he adjusts to the next level of pitching, Alonso has shown flashes. Batting just .231 heading into tonight's game with Fresno, the talented first baseman blasted three homers — one a grand slam — in a 14-12 win over the Reno Aces back on June 23. Alonso has 19 home runs this season so far, but just four with the 51s. Still, there is no question the 23-year-old former Florida Gator is on the fast track for a solid Major League career.
"I've hit at every single level," Alonso told the Review Journal's Betsy Helfand. "That's really something I just do. I feel like it's one of those things that it's always been a strong suit of mine and I feel like I'm a really special hitter. I just need to get my glove caught up to my offense."
One of the best parts of these two young ballplayers moving up together is their camaraderie. When Alonso was recently named to the MLB Futures Game roster for All-Star weekend, someone in the Twitterverse asked about McNeil's upside and future. ESPN's Keith Law — who also once said Las Vegas's own Kris Bryant had too long a swing to be a Major Leaguer — basically called McNeil an old man (at 26) who is benefitting from a hitter's ballpark.
The former Gator set Law straight.
@keithlaw The kid rakes and has hit pretty much everywhere he's been. How can you discredit a .400 average in AAA?

— Peter Alonso (@PeterAlonso20) July 6, 2018
The thread continues with Alonso defending his teammate, despite Law's attempts to brown nose him with a congratulatory response. Quick to thank him for the compliment, Alonso wanted nothing to do with letting Law off the hook for his flippant insult of McNeil.
I appreciate it. But I'm just letting you know he rakes. He's also the only one on the team hitting above .300 at the moment. If it was so easy everyone would be doing what he's doing. It's ok to throw him a bone

— Peter Alonso (@PeterAlonso20) July 6, 2018
As if the kid wasn't impressive enough, going to bat for your teammate with an ESPN scout that has a blue checkmark next to his Twitter handle is straight-up brotherhood. Law has a long history of under-judging talent, but he is still a credible name when it comes to baseball's top prospects. Those blue check marks can be quite intimidating but Alonso's defense of McNeil almost had me misty-eyed, like when Brian O'Conner and Dominic Toretto gazed into each other's eyes and told each other, "Ride or die."
It's instantly clear the 51s have some special players on the roster. A bad start at Triple-A is almost a death knell for community enthusiasm, but the duo have returned some of the excitement to Cashman. The 51s still sit in last place but, if their recent surge is any indication, we could be looking at some pretty hot bats during monsoon season.
It's always a good thing when the bats at Cashman Field are hotter than the benches. For now, it's a battle between these two ballplayers and the big orange ball of plasma in the sky, and my money's on O'Conner and Toretto…er…I mean, McNeil and Alonso.