With the dog days of summer upon us and temps hitting triple digits before lunchtime, the Las Vegas 51s enter attendance hell. Putting butts in the seats is hard enough in this entertainment-driven town, but there is one surefire way to boost attendance in Cashman Field's swan song: Tim Tebow.
The polarizing and popular former quarterback-turned-kneeler is currently playing for the New York Mets' Double-A affiliate Binghamton Rumble Ponies. He was even recently named to the Eastern League All-Star team and has been one of the reasons the Rumble Ponies are recording some of their best attendance numbers in affiliate history.
"Tim Tebow would sell a lot of tickets," said Las Vegas 51s media relations Jim Gemma, who was quick to point out franchise decisions like this are wholly up to the New York Mets organization, not the 51s. "He would also be the most high profile professional athlete to play in LV including the NHL."
The summer is always a tough time for the 51s. The excessive heat makes for a challenge when trying to keep attendance numbers up. Cashman Field itself is outdated, and in its last season as home for the Triple-A affiliate. While next year, the team will have a new parent organization as well as a new name and stadium, that doesn't help with attendance this year.
With the Mets changing affiliates, this summer would be the 51s last shot at cashing in on Tebowmania. His religious convictions and impeccable reputation carry a great deal of weight. Thousands of people packed Canyon Ridge Church a few years ago, just for a glimpse of the popular athlete. Some estimate the figures were upwards of 20,000. When was the last time Cashman Field eclipsed that kind of attendance during a regular season 51s game?
Don't think for a moment 51s owner Don Logan isn't watching Tebow's progress with baited breath. One could say he's "seen the light," when it comes to increasing attendance during the summer doldrums.
It certainly helps the former Denver Broncos and Florida Gators quarterback is getting the job done with Birmingham. The two-time Heisman Trophy winner is batting .261 with 12 doubles, five home runs and 30 RBI. His .733 OPS is 35th-best in the Eastern League, and he's hitting .318 in the month of June.
If he continues this progress, it won't be long before we see Tebowmania hit Cashman. More so, one can't help but think his religious following will benefit the 51s at the box office. One can only imagine the contingent of church groups loading up the vans for group outings. Tebow doesn't just bring athletic ability. He brings a dedication to people. The community would, of course, embrace him for the character-driven man he is.
Perhaps Las Vegas is his next big mission field. Perhaps he's just hoping to settle in and continue his development. What he's accomplished since deciding he'd become a Major League baseball player is already nothing short of a Disney movie but he is also a competitor.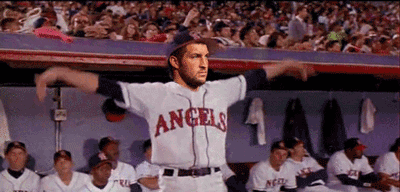 It's not enough to just taste success for Tebow. He wants to be the best at whatever he sets his mind to.
"As an athlete, you always want to be the best you can and play at the highest level, win a championship, be the best. We don't compete to have fun, we compete to win. So you want to compete at the highest level," Tebow told the Las Vegas Review-Journal earlier this year.
"I view success as being able to play a game I love every day. If the best that I can be is in the bigs, that would be awesome. I believe in myself and want to strive for that."
For the 51s, a Tebow promotion could be a gold mine — Tebow Bobblehead Night, Tebow Jersey Night, Tebowing Contests. Heck, even flip the script and do a Tim Tebow $1 Water Night instead of the traditional madness that is $1 Beer Night.
With an all-star nod in tow, it won't be long before Tebowmania reaches Cashman. Hard to think of a better way to say goodbye to Cashman than with one of its best attendance numbers in years. While local fans should already should be rushing out to see Mets stud prospect Peter Alonso, perhaps the presence of Tebow will give them that nudge.
Either way, we'll be over here taking a knee while we watch this potential drama unfold.