It has been 13 days since the Golden Knights' season ended after the Capitals won the Stanley Cup Final in five games over our beloved Knights, with the clincher being right here in Sin City. As many fans, like myself, experienced a plethora of emotions after the season ended, many asked "I cannot wait until next season…I NEED MY HOCKEY FIX!" and, tonight, we get a tiny taste of hockey and nostalgia with the 2018 NHL Awards at Hard Rock Hotel & Casino.
Well, here it is! After 13 long days, some of your favorite players and staff will take the stage right here in Sin City for the NHL Awards ceremony. Here is what you need to know:
The Lady Byng Trophy (Most Gentlemanly Player)
This award has historically featured some of hockey's classiest players. Some notable winners of this award are Paul Kariya, Martin St. Louis, Pavel Datsyuk, and that one Great One everybody calls "Wayne Gretzky." It is more than just an award given to the nicest player who doesn't play top minutes. No, you actually have to put up the numbers. This year's finalists consist of Ryan O'Reilly, of the Buffalo Sabres, Aleksander Barkov, of the Florida Panthers, and William Karlsson, of the Vegas Golden Knights.
William "Wild Bill" Karlsson
After being primarily a penalty killer and depth guy in Columbus, "Wild Bill" burst onto the scene in grand fashion here in Vegas. Scoring more 40 goals, logging a ridiculous plus/minus rating of 49, and only racked up 12 penalty minutes in the regular season. He was up against the league's best players every night, yet he never succumbed to the "dirty hits," "cheap shots," or "face licking" other players (yeah, I'm looking at you Brad Marchand…still nasty). Honestly, it is a surprise Karlsson isn't a finalist for the Selke winner. He was a leader on the ice, and a soft-spoken yet humble person off the ice. Well deserving, especially for this gif.
Aleksander Barkoff
Barkov is slowly becoming the most underrated centers in the NHL. Putting up 78 points, and only 14 penalty minutes, while riocking out a strong a plus 9 in the plus/minus rating. Some will say it is not higher because Florida was inconsistent this past season, barely missing the playoffs, so one has to think this will hurt his chances as a winner.
Ryan O'Reilly
O'Reilly is the only other previous Lady Byng winner of the three finalists. As if Karlsson's penalty minutes weren't low, O'Reilly sat in the penalty box one time this whole season. A whopping two minutes for a player who averaged just under twenty-one minutes on the ice, simply put, that is outstanding. In addition to the fact that he put over 60 points on an abysmal Buffalo Sabres squad, he also only had two penalty minutes when he was a member of the Avalanche back in 2013-2014, a year in which he won the Lady Byng. What will hurt his chances of winning is that O'Reilly was on a decent squad that year, this year the Sabres finished dead last.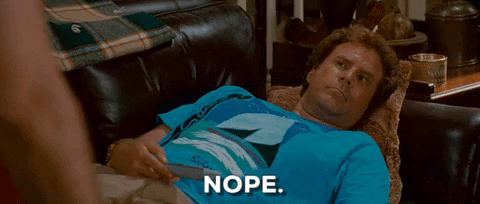 The Mark Messier Leadership Award
Your finalists are Deryk Engelland (VGK), Wayne Simmonds (PHI), and Blake Wheeler. This award is given to the player who leads his team on and off the ice. Normally, there aren't too many slam dunks when it comes to these awards, but this was anything but a normal season. I am not even going to bother breaking down the other candidates, who would have a great chance of winning any other year, but…this is the Year of the Golden Misfits. This award is as easy to choose as the empty net goal that "Wild Bill" used to clinch the Golden Knights' first-ever hat trick this past fall.
Deryk Engelland…easy choice.
Engelland, the only Las Vegas native on the Golden Knights roster, was faced with an uphill battle to start the season on the ice, as well as off it. After the tragic events of the 1 October shooting, Engelland's speech prior to the VGK's first home game nine days after the tragedy will forever go down as one of the most iconic moments in Vegas sports history. A city still mourning, many of whom were still scared to even go on the strip, went to the home opener with the goal, for just a few hours, to forget about all the evil in the world and watch some history being made. Then Engelland gave that speech, and there wasn't a dry eye in thearena. Then, like a true leader, he goes and backs it up on the ice that game, scoring the second goal of the game on a slapshot.
In addition to that opening night, Engelland is one of Vegas's six alternative captains. He helped heal a community and grow a community all at once, and growing the sport of hockey to a brand new market. No disrespect to the other nominees, but this is an easy choice.
Jack Adams Award (Best Coach)
Finalists: Jared Bednar (Colorado), Bruce Cassidy (Boston) and Gerard Gallant (VGK)
Keeping with the notion there aren't usually any easy choices for these awards, this again is another exception. Any other year, Bednar would win this award hands down. He turned a team that had one of the worst seasons in NHL history the previous year, into a playoff team. He had one of the best front lines in all of hockey, and a solid young defensive core. Yet, he probably won't win this year.
Cassidy did an outstanding job in Boston. He took a team that also missed the playoffs last year and turning them into a team with the second most points in the eastern conference. However, he probably won't win it this year either.
Instead, it was Gallant who did the unthinkable. Gallant led a first year expansion team to the Stanley Cup final. From the very beginning, Gallant wanted "character" guys, meaning he wanted players that were going to work hard for him, buy into his system, and play solid defense. He meshed different lines early on in the season, moved "Wild Bill" to the top line with Reilly Smith and Jonathan Marchessault. The paring became arguably the best 5-on-5 line in all of hockey. He nursed a depleted goalie staff, down to the fifth string goaltender after the first 17 games, and still held the squad afloat. This is another easy one. Gallant SHOULD take this one home.
General Manager of the Year
Finalists: Kevin Cheveldayoff (WPG), George McPhee (VGK), and Steve Yzerman (Tampa Bay)
While both Cheveldayoff and Yzerman turned their teams from missing the playoffs last year to powerhouse contenders in the league this year, this award will not go to them either.
Instead, it will go to the architect of the Vegas Golden Knights' historic season: The man, the myth, the legend, George McPhee. McPhee coordinated some of the best trades, deals, and acquisitions a year ago today during the Knights expansion draft. Whether it is taking on the Reilly Smith contract in order to get Marchessault, the Erik Haula agreement to get Alex Tuch, or the David Clarkson contract in order to get "Wild Bill," McPhee did an unprecedented job assembling a championship team out of thin air.
He collected a group of "character guys" made up of some established NHL players, some rookies, a few up-and-coming players, and a couple of weathered veterans who want their chance at glory before they walk into that final sunset. The perfect storm of roster managment turned into a team that got to the Stanley Cup Final, smashing every expansion record there is in the book.
Of course, we would all love to see all the Golden Knights players respective trophies this year. I think three of them are a lock, with the toss up going between William Karlsson and Ryan O'Reilly. Regardless who wins, these Golden Knights did the unthinkable this season and it has been a thrill to watch them succeed.
We don't need an NHL plaque to tell our city otherwise.