Cormier to challenge Miocic for the UFC heavyweight title.
The T-Mobile Arena here in Las Vegas will play host to UFC 226. The main event features light heavyweight champion Daniel Cormier taking on heavyweight champion Stipe Miocic. "DC" will make the jump to heavyweight as he challenges Miocic for the UFC heavyweight title.
This one is already being classified as a super-fight, and for good reason. Not to mention, recent reports confirm that UFC 225 took a huge PPV dive with less than 150,000 buys.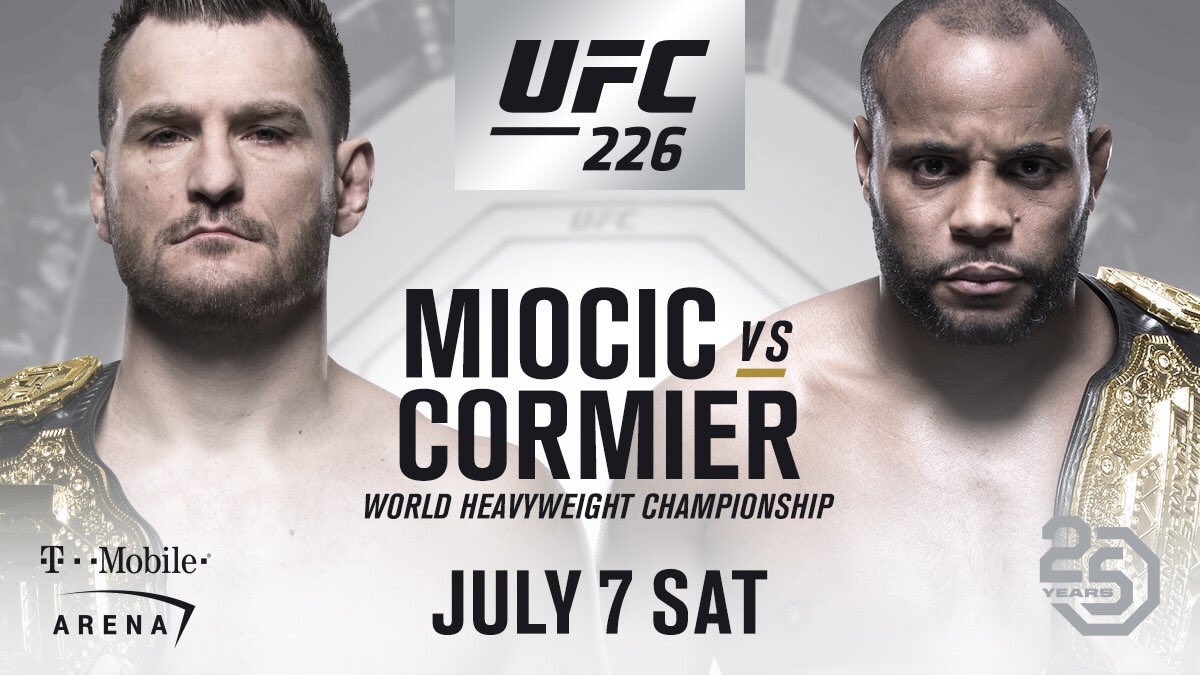 For those who may not know, Miocic is a firefighter in Valley View, Ohio. While impressive in its own right, Miocic wont be thinking about fighting fires here in Las Vegas, only turning out someone's lights. He will have a formidable opponent across the octagon when he steps inside July 7th.
In Stipe's last seven fights, he is 6-1, with his only loss coming at the hands of Junior dos Santos in December of 2014. Miocic made quick work of dos Santos during their rematch in May of 2017, ending the fight by TKO (punches) in the first round.
His opponent? Daniel "DC" Cormier. Yep, the light-heavyweight champ who got knocked out by Jon Jones (the same Jon Jones who couldn't pass a drug test). In his last seven fights, Cormier is 5-1 (not counting the No Contest by the cheater Jones). "DC" finished Volkan Oezdemir back in January at UFC 220 in Round Two.
These are two amazingly talented fighters: Cormier is without question the best wrestler Miocic has faced thus far in his career. "DC" boasts a take-down accuracy over 42 percent. That, coupled with an 81 percent take-down defense average makes him extremely dangerous inside the octagon.
Meanwhile, Miocic will enjoy an 8-inch reach advantage, as well as a 5-inch height advantage over "DC." Keep in mind that "DC" will be moving up from light-heavyweight to fight Miocic. At what point in the fight might it catch up to Cormier? If it does, he could be in serious trouble.
Stipe is a vicious striker with 72 percent of his wins coming by way of Knockout or TKO. A mere 6 percent of his victories have ended in submission, while 22 percent coming by decision. Miocic has a stout takedown defense sitting at 75 percent.
As Cormier challenges Miocic for the UFC heavyweight title, he may have trouble getting the fight to the ground. Miocic may have trouble if he succeeds. It's no secret, "DC" is a world class wrestler. Cormier — not to be outdone by Stipe's extra curricular firefighting activities — also coaches the notable wrestling team at Gilroy High School.
Back in April, Dana White mentioned the possibility of the winner of Miocic vs. Cormier eventually facing Brock Lesnar (and his mailbox-esque hands) was still in play. As time goes on, it appears that may not be the case at all. Recent reports suggest a much different opponent, IF Lesnar does — in fact — return to the UFC. According to multiple sources, Jon Jones and Brock Lesnar have mutual interest in making a fight happen.
Current odds have the favorite Miocic as high as -300 (opened as low as -250) while Cormier sits at +260 (opened at +200) as the underdog.
You can catch the UFC 226 prelims on Fox Sports 1 and UFC Fight Pass at 3:30 PST (6:30 EST). Viewers can flip over from Fox Sports 1 to pay-per-view as Cormier challenges Miocic for the UFC Heavyweight Title. The Co-Main Event of the night features Max Holliday against Brian Ortega prior to the Cormier-Miocic brawl.