For all you Bulls fans out there dreading the upcoming season and wishing we were still in the good ol' days, we've got some good news for you! Scottie Pippen is coming back!
…No, not in sneakers and shorts. According to a report from The Big Lead earlier today, Pippen is joining ESPN as an NBA analyst. He is scheduled to make approximately 50 appearances on various ESPN shows throughout the upcoming NBA season. The six-time champion and Hall of Famer will have a recurring role on The Jump, ESPN's daily afternoon NBA show hosted by Rachel Nichols.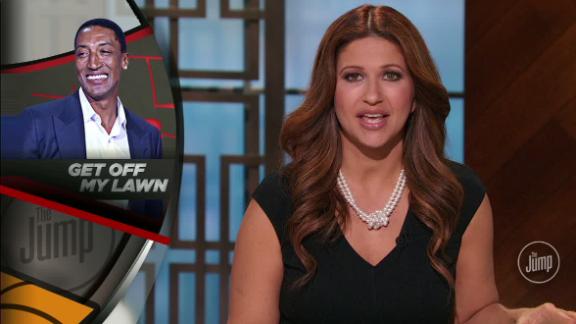 Pippen's former Bulls coach Doug Collins is leaving his studio gig on NBA Countdown to return to color commentary. No official replacement for Collins on ESPN's NBA pregame program has been announced at this point, but it's likely that Scottie shows up at the Countdown desk once or twice.
Two Jobs
Scottie still works for the Bulls' front office. He currently holds the title of "Special Advisor the the President & COO" (Jerry Reinsdorf's son Michael). Pippen shares those advisory duties with two former teammates from each threepeat, Horace Grant and Toni Kukoc. The title is mostly honorary, and doesn't come with too many responsibilities. Mostly, the former players serve as representatives of the organization in the public eye, appearing at charities and social events.
If you're feeling pessimistic (or downright petrified) about the upcoming season and the new-look roster, I'm with you. But fear not! At least we'll get to watch Scottie Pippen on our televisions once in a while, reminding us of all the great times (and teams) from days gone by. Who doesn't love a little sports nostalgia? Set those DVRs to record, people!
Follow @SportsMockery
The views and opinions expressed in this article are those of the author and do not necessarily reflect the official policy or position of Sports Mockery, Inc.