As the 2019 NFL Draft approaches, it's time for some of the experts to start playing a little "Imagination Land" with potential scenarios. One such scenario ESPN's Bill Barnwell proposed was the Raiders trading their 24th pick they obtained in the Khalil Mack trade last year as well as a fifth-rounder to the Houston Texans for defensive end Jadeveon Clowney.
Granted this is the same ESPN writer who is fantasizing about the Raiders trading their fourth overall pick for Detroit quarterback Matt Stafford, a QB with a total of ZERO playoff wins and a history of giving away games before padding his stats late ala Tony Romo. While bolstering the defense is a priority, casually wasting the draft capital Jon Gruden and Mike Mayock have collected would be unforgivable.
Current Raider quarterback Derek Carr has been working with newly-acquired wide receiver Antonio Brown ever since the Mayock finagled Brown from the desperate Steelers for a third- and fifth-round pick. Adding these weapons then trading away the valuable picks for a quarterback who has been even worse than Carr at winning playoff games is flat out stupid. Let's look at the ridiculous proposals Barnwell threw out like lawn darts at a barbecue.
Matt Stafford for the fourth overall pick
Ridiculous. Seriously. Stafford has never won a playoff game in his 10-year career. While Carr hasn't lit up the world against playoff-caliber teams in his career, this is basically a push. More so, Barnwell proposes the Raiders spend the summer trying to trade away Carr's contract and eating millions of his $19-plus million cap hit.
Lining up Carr and Stafford across from each other is literally this: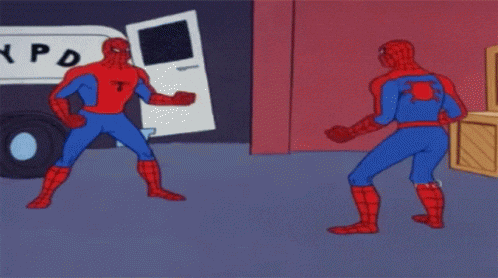 Barnwell says:
"Jon Gruden, meanwhile, might very well prefer the 31-year-old Stafford to any of the rookies in this class. He has publicly backed Stafford in the past and never pulled the trigger on a highly drafted rookie at quarterback during his time as a head coach, instead preferring veterans such as Rich Gannon and Jeff Garcia or midround picks such as Chris Simms and Bruce Gradkowski.
With Stafford's $50 million signing bonus already paid, the Raiders would be inheriting Stafford on what amounts to a four-year, $84 million deal, which would be a relative bargain for an average veteran starter. The Raiders would still lose their top pick in the process, but they would keep their other two first-rounders and get another second-round selection. Stafford throwing to Antonio Brown and Tyrell Williams would sell some tickets in Las Vegas. This deal would render Derek Carr relatively null and void, but the Raiders might be able to find a trade market for him over the summer if they eat some of his $19.9 million base salary."
Some of these nimrods are so quick to kick the dirt over Carr's career while constantly plugging the Garbage Pail Kid Stafford as some sort of heroic savior. The dude is one of the single-biggest reasons the Lions are basement dwellers. While Carr hasn't been Aaron Rodgers or Tom Brady the past few seasons, he has won and was on the way to a stellar postseason run a few years back before he broke his leg.
Stafford doesn't have that excuse. He's run through offensive coordinators like tissue, has a tendency to turn the ball over a bunch in the early portions of the games and then, when the pressure mounts, tends to find a way to give it away one last time after "staging furious comebacks" time and time again. He is Tony Romo Lite.
While it makes sense for Mayock and Gruden to draft a potential successor for Carr, this draft is barren. The Raiders have nothing to lose by giving Carr a season to prove he can win with the offensive weapons he's been dealt this offseason. They can draft a QB later in the draft and develop them, similar to what teams like the Patriots and Packers are looking to do as well.
This is a hard pass and, if it were a hard pass from Stafford? It probably got picked anyway.
Jadeveon Clowney for the 24th overall pick and a fifth-rounder
It's almost as if these writers are completely out of touch with the regional sports teams they pretend to cover on an in-depth basis. Trading away a valuable first round pick for a player that is on the verge of commanding almost $20 million a year in free agency would be a great idea if the player was, well, Khalil Mack.
Clowney has 29 career sacks in five seasons as a pro with 205 total tackles. He earned a run-defense grade of 91.2 this season (second among edge defenders) from Pro Football Focus and a run-stop percentage of 9.9 (tied 10th). While the former first overall pick just posted his best season to date, he has struggled with staying healthy, especially early in his career. The Raiders run defense was pitiful, yes, and Clowney would fill that hole, the Raiders could draft an impact player at less cost and use the wealth of cap space to build a deeper defensive line, instead of blasting all its capital on one player, which was kind of why the Raiders traded Mack in the first place.
Here's what Barnwell had to say:
"One team that would probably be comfortable using a first-round pick to pay Clowney north of $20 million per year would be the Raiders, who would be using the pick they received from the Bears in the Khalil Mack trade to go after an edge rusher with proven success and significant upside. Trading Mack for two first-round picks doesn't sound quite as bad as trading Mack for Clowney and a first-round pick, and while I'm not sure that's a great way to make football decisions, I would also be pretending to think that teams don't think that way internally."
Why not just pay Mack $22 million a year and never lose arguably the best defensive player in the game instead of trading one of the draft picks to get a play you're going to be forced to pay $20 million to anyway?
It's baseless and won't happen. The Raiders need depth on the line, not just one player teams can scheme away from. Clowney would gut the cap space and force the Raiders into a bad situation. Defensive line depth can be added in the draft (if the Raiders draft well or make a salary-friendly trade with the draft picks) but robbing Peter to pay Paul would be a dumb move.
Then again, these same "experts" have the Raiders trading for Stafford, or even trading up for Kyler Murray at No. 1. Murray's overhyped stock (despite being slightly taller than Wicket the Ewok) is the glamour choice for every team, even though his size makes it a gamble. That's a head-scratcher into itself.
The only guarantees in life are death, taxes and hot takes from detached ESPN scribes. Look for the Raiders to do what they have done every second since Gruden's return: Whatever the hell they want despite outside influences attempting to criticize something they can't understand nor comprehend beyond a surface level.
Gruden will draft, develop and patiently build, which has been his plan all along. The team wants to be a Super Bowl contender the moment it kicks off in Las Vegas, and will have a decent product for its final curtain call season in O*kland. Draft smart, draft for depth and continue to make the larger strides in improvement.
Rome wasn't built in a day, even if the new Las Vegas Raiders Stadium takes two years…