Well, it could've been worse. It arguably should've been worse. A (literal) last second driving layup by UNLV senior Kris Clyburn was the game winner as UNLV's basketball team narrowly defeated Montana State-Billings, 83-81, Friday night in the Runnin' Rebels' first of two exhibition games to open the season. 
The win, which lacked any semblance of defense, threw a scare into many Runnin' Rebels fans, as Montana State-Billings was supposed to be a glorified practice. Instead, it turned into heart-stopping drama in a game that was supposed to be a low key showcase of the new talent the Rebels will unleash this winter. To say the performance was a disappointment would be an understatement, but a win is a win.
When I asked a friend his take on the game Friday night, all I got in response was this:
Here are my key takeaways from the first 40 minutes of action into the season.
The Starting Five
Is this a glimpse into what we can expect to see for majority of the season? With major question marks coming into this contest, a number of scenarios could've played out equally as likely. Friday's starters were Noah Robotham, Amauri Hardy, Kris Clyburn, Shakur Juiston, and Mbacke Diong. I would expect this specific grouping to change in time, though three of the five might remain intact all year long.
Robotham is almost a no-brainer at this point along with returning star Juiston. The biggest surprise might be Diong, who played with energy and a renewed confidence in his offensive game. We all knew about his defensive presence, but now the lanky sophomore might've added another dimension to his game down on the blocks. Or maybe he just used his size against the smaller Division II school, which still isn't a bad thing. Either way, I did witness Mbacke do a jumping-split leg-double toe-touch during the warm up, so that's cool.
Sixth Man and Rotation
First man off the bench (although in a tandem substitution package) was Tervell Beck. In limited minutes last year, NuNu showed great upside with his offensive ability. Expect Menzies to give him ample opportunities to play his way into a starting role at some point. Although local star, former Clark Charger Trey Woodbur,y was withheld from this one nursing an injury, fellow freshmen Bryce Hamilton made his anticipated debut. It looked as if he was a little hesitant.
"They were nervous," coach Marvin Menzies said after the game. "Those young bucks were nervous."
The rotation will likely be molded to matchups later on, but expect Hamilton, Joel Ntambwe, and Jonathan Tchamwa Tchatchoua (just call him Jonathan) to find themselves making minutes for themselves as the season goes on. This could be a season where UNLV actually has a bench of 10 deep. The only certainty is that Juiston, Clyburn, and Robotham will get their minutes. The rest is theoretically up for grabs.
The Three-ball
Fan favorite! Holding the nation's longest streak in consecutive games played with a made three-point attempt, each year under Menzies (so far) there have been questions about "Is this the game where the streak gets snapped?" Good thing I'm here to tell you, without hesitation, I can honestly give you the answer… and it's 'maybe.'  
The Rebs only took 10 attempts behind the arc and made four. Robotham made three of those. Now, things may change once the previously mentioned Woodbury becomes available, but shooting from distance is not a strength with this group. Realistically, I can envision NuNu Beck or Hardy pulling up for 3's early in the shot clock and knocking at least one down a game, so I'm sure the streak is safe. You may all breathe easy.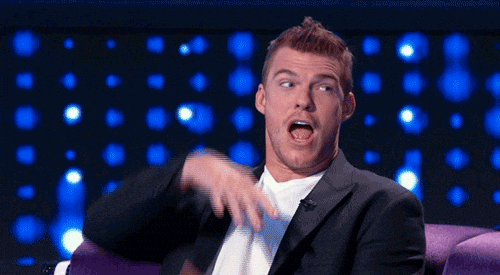 DEFENSE! (***clap, clap)
Defending the opponents long-ball was a problem for the Runnin' Rebels last year. Based off of this game alone, it might still be a problem.  Coach Menzies has mentioned that he wants to only give up around 17 attempts beyond the arc, and already in the first (exhibition) game UNLV gave up 35. To go along with all those bombs came 13 makes, which is a ton. One thing is for sure, UNLV needs to tighten up their half court defense. Keeping their feet moving and contesting three-pointers without allowing open looks elsewhere will be a high priority in the coming games. Or as Coach said, "The lessons in the film will be phenomenal." This is still very much, obviously, a work in progress.
Attendance
I know, I know, this was an exhibition game. I've mentioned that numerous times already. Still, it's been some-time since we have literally 'Packed the Mack' in support of our men's basketball squad. If Friday's dismal showing is anything to go by, it might be a lonely season inside the T&M Center. This isn't going to be a historically good Rebel team that we remember for years, but it does feature a core of players that should stick around for awhile. Why not get to know them a little and come check them out? Also, check out the brand new big-screen that sits above center court. I don't want to beg anyone to show up… but I might.