His slider is vicious.
His fastball takes no prisoners.
And his beard, it's marvelous.
The reigning National League Cy Young winner knows a thing or two about toughness. Hell, you know you've made it when people are creating pink shirts about your body.
Posting a sub-two ERA and mowing down 236 batters last season, Jake Arrieta finished sixth in the MVP voting and took home the grand daddy of all pitcher awards. Not only that, but he was also incredibly helpful leading the Cubs to their first NLCS birth since 2003.
Arrieta blends in with Chicago very well. He wears his toughness on his sleeve and he's an incredibly hard worker. The perfect blue-collar role model.
Lately though, his toughness has been taken to another level. His facial hair, along with is attitude has brought about comparisons to WWE Hall of Famer Jake "The Snake" Roberts. Aurelian Smith Jr., the real name of the famous professional wrestler, is well known for his alter ego that viciously beat opponents often letting his snake "Damien" crawl all over them afterwards.
There was actually a movie made about him.
Checkout this clip, it's shows Damien biting Macho Man Randy Savage. Back when TV was tough.
With Arrieta recently becoming the poster-boy for toughness in the Windy City, and his first name matching a WWE heel, it's was only a matter of time until Jake "The Snake" Arrieta was born. Nobody is 100% sure how the nickname started, but the Internet has been having fun with it ever since… and it's hilarious.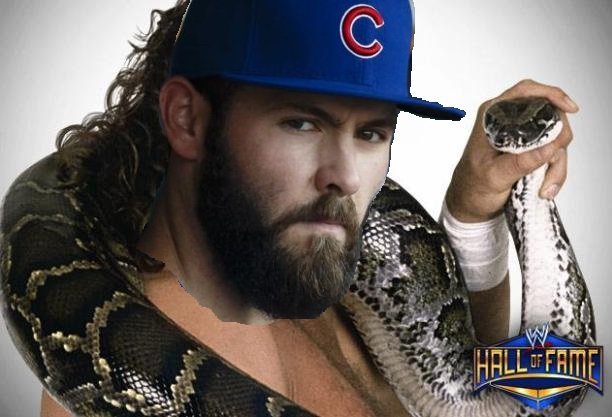 Since everyone has been having so much fun, we decided to join in.
Want to join in? Tweet us @SportsMockery or @UrbanGameday and we'll add your Jake "The Snake" Arrieta photoshop edits to this post. Use the #JakeTheSnake hashtag.
If you're looking for some awesome swag, local Chicago tee shirt company Urban Gameday cooked up this solid ass tee for you.
Both this shirt, and the Body By Jake design have already been endorsed by his beautiful wife Brittany online. If they're good enough for the Arrieta family, they're good enough for you.
Choices choices…What to wear while cheering on my @Cubs from the couch😜🐻, thank you @UrbanGameday 👊🏻😘 pic.twitter.com/iLVOy6E2Ft

— Brittany Arrieta (@MrsArrieta49) August 6, 2016
This is already on track to be the perfect Halloween costume of 2016, don't be late to the party. Pick up a Jake "The Snake" Arrieta tee today and send us your Photoshop edits.
Tweet us @SportsMockery or @UrbanGameday.
Or Damien will get ya.