20 Things That Scream "I'm a Chicago White Sox Fan"

The City of Chicago is extremely rich in its baseball history having two professional baseball teams to cheer for; however, if you grew up on either the north or south side of town, your perceptions vary greatly and there can be only one team to root for at the end of the day.
It's not to say you won't find Chicago Cubs fans on the south side of town, but there is a pretty clear distinction, and quite a few stereotypes, that distinguish a White Sox fan over that of a Cubs fan.
To start, let's take a look at how the north and south is divided by a pocket of black in a sea of blue. There's no getting around the fact the Cubs have a larger fan base which is due to a plethora of reasons, hinging upon the fact that their games have been nationally televised on WGN since the late 1970s.
Know Your Boundaries
A Map of Baseball Nation provided by TheUpshot.
Now that we are familiar with our surroundings, let's dive right in.
20 Things That Scream "I'm a White Sox Fan"
1. You Treat Opening Day as a National Holiday, Rightfully So
In your eyes, Opening Day is a day that is immediately circled on your calendar and treated as a national holiday. Meaning, you either burn a vacation day or come down with a 'severe cough' the night before.
Side note: Opening Day can lead to a wicked case of the 'Irish flu' if done right, leaving you unable to attend work the following day as well. Shucks.
2. You Always Wear Black
All White Sox fans are very familiar with Hawk Harrelson's saying, "Good Guys Wear Black". With black being the predominant color in their uniform, fans like to represent the south side by donning as much black as possible when trying to intimidate the opposing team entering the South Side.
3. You Have Eaten Nachos Out of a Helmet 
The White Sox may get criticized for their ballpark in terms of the size and overall layout, but one thing you can't and won't knock — the food. US Cellular pumps out the best food money can buy at a sporting event in the City of Chicago. Hands down.
4. You Still, to This Very Day, Talk About the 'Blackout'
Arguably one of the coolest sporting events of the 21st century, the 'Blackout' game was a spectacle that is hard for anyone who attended to truly due the overall experience justice. On September 30, 2008, the White Sox faced off against the Minnesota Twins in one-game tie-breaker to determine who would be crowned champions of the American League's Central Division in a win or go home scenario.
The White Sox won the game, 1–0, on a home run by Jim Thome in the bottom of the 7th, which culminated with a game-ending diving catch by Brian Anderson in the lowest-scoring game in MLB tie-breaker history.
The kicker, every fan was instructed to where as much black as possible in an effort to 'blackout' the Twins. It worked and it was an epic experience.
5. You Remember 'The Hot Dog Lady' All Too Well
If you have been lucky enough to attend a game in the past 15 or so years, you are all too familiar with the little soft-spoken woman who sold hot dogs and peanuts at White Sox games. She never yelled or heckled you to buy the dogs, that was the best part. She would simply rattle off a quick 'tap tap tap' on the metal hot dog warmer letting you know she's there if you're hungry.
Her name was Ho Pun Padzett and she unfortunately passed away last year at the age of 71. Gone, but certainly not forgotten.
"On more than one occasion, she would take her tips and buy all the kids in the outfield a hot dog," White Sox spokesman Marty Maloney said. "And oftentimes she would buy Comiskey Cash [a currency specific to U.S. Cellular Field] and distribute that to young children in the outfield so they could buy concessions."
6. You Know How to Park for Free 
If you are a seasoned veteran that has attended your fair share of White Sox games and happen to know someone who either lives in or works for the City of Chicago, chances are you know how to work the system by parking for free.
7. You Are Prepared to Tailgate No Matter What the Weather Is
Rain or shine, when you attend a White Sox game half the fun is tailgating before the game. Brats, beer and boards are known as the "three b's" and your key to kicking off the day right.
No matter what the weather. 
8. You DO NOT Root for the Chicago Cubs
This is often a point of contention, but sorry sports fans, its one thing to not wish ill will on a team, it's quite another to try and physically root for both sides of town. It just doesn't work like that.
Pick a side and remain loyal until the day you die.
9. You Have Snuck Beer Into the Ballpark on More Than One Occasion 
Drinking alcohol, even if it's just beer, at any stadium is highway robbery. A Bud Light is the price of lunch and a mixed drink will cost you a second son. Why settle for these prices when there are other ways to go about enjoying a few 'pops' during the game?
I am not telling you break the rules, but I am providing you a few clever options in an effort to help you not have to break the bank to get your drink on.
The Beer Belly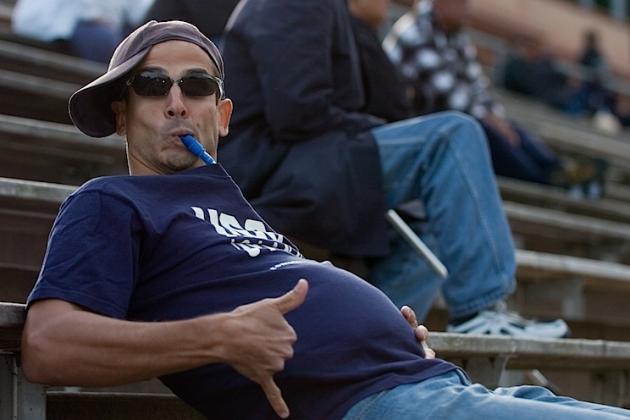 Not to be confused with The Wine Rack.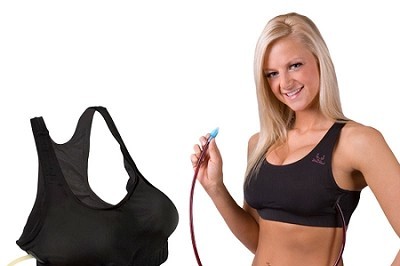 Creative Flasks
Old Reliable, the Hoodie
10. You Know Exactly What "Elvis Night" is All About 
An event that even has its very own Facebook page, Elvis Night has taken on a life of its own amongst White Sox fans.
So, grab yourself a wig, a tight pleather jumpsuit, some kick-ass shades and join the fun on August 28th against the Seattle Mariners.
11. You Can Spot a Mullet From a Mile Away
A stigma that is hard to shed, the White Sox fan base has and always will be associated with the mullet — commonly referred to as the: Kentucky Waterfall, Canadian Passport, Ape Drape, Beaver Paddle, Camero Cut, Mudflap, Neckwarmer, Missouri Comprimise or the Tennessee Tophat.
The ideology of having the business in the front, party in the back is something that any White Sox fan can quickly point out at any sporting event, not just at US Cellular. Hence, Mullet Night.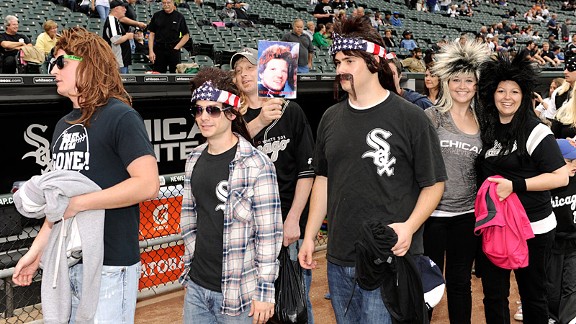 12. You Own a St. Patrick's Day Inspired Jersey 
Halfway to St. Patrick's Day is something any 'southsider' is very familiar with. Why? Well, a large portion of White Sox fans hail from the South Side of Chicago and are known for being predominantly Irish. Southsiders start drinking well before the age of 21, dislike opposing fans for no apparent reason, live for the South Side Irish Parade, and love the White Sox.
13. You Have Taken a Date to 'Fireworks Night' 
Looking for a fun and relatively inexpensive night out with someone you just started dating? Well, chances are you have brought them to a Friday night White Sox game which culminates with an awesome firework display.
Easy money.
14. You Know Your History 
Part of being a White Sox fan is knowing your damn history. Opposing fans love to hate you, which is why you are filled with a plethora of knowledge that is not only unique to Chicago, but helps defend the clubs reputation by hitting them over the head with countless facts.
Controversy is your middle name and you love hashing out colorful debates when it comes to your White Sox.
15. You Have Taken the "L" But Are Happy to Know Metra Stops at 35th Street Now
Back in 2011, the addition of the 35th Street stop along Metra's Rock Island line changed the game. Everyone has taken the "L", which stands for the CTA's elevated train system, but nobody has ever walked away and said, "wow, that was a great experience, I can't wait to ride this train again." Nobody.
16. You Hate All That Is Detroit, Minnesota, Kansas City & Cleveland
Being a White Sox fan is all about having rivalries and there are plenty of them playing in the American League Central. You have grown up hating all that is Minnesota, Cleveland and Kansas City; however, you hold a special place in your hate-filled heart for the dumpster fire that is Detroit.
17. You Have Sang 'Na Na Hey Hey Kiss Him Goodbye' with a Group of Strangers
Admit it, it's catchy and you've taken part in it at one time or another.
18. You Reserve a Special Place in Your Heart for Journey and AC/DC
"Don't Stop Believin'" and "Thunderstruck" are two anthems that bring goosebumps to any die-hard White Sox fan as it brings back so many memories of their 2005 World Series championship.
Journey's "Don't Stop Believin'" was a song which became a rallying cry for the Chicago White Sox in their successful run to the 2005 playoffs, after catcher A. J. Pierzynski and teammates heard the song being sung in a bar in Baltimore. The White Sox invited Journey lead singer Steve Perry to the team's celebration rally, where he sang the song along with several members of the team.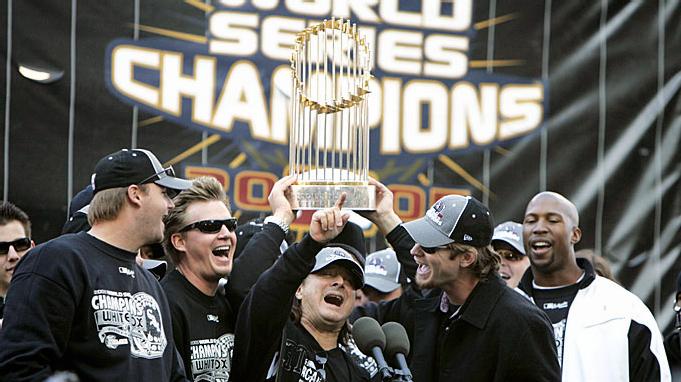 ACDC's "Thunderstruck" speaks for itself.
19. It Will Always Be Comiskey Park
Sure, they eventually rebuilt and renamed the ballpark US Cellular Field, but deep down, it will always be known as Comiskey Park. Say what you want about the old ballpark, it had character before finally being demolished back in 1991 after more than 80 years in existence.
20. You Know What a Ring Looks Like
Read it and weep Cubs fans. Pow!
<