Chicago Bulls Basketball – The NBA has fined Minnesota Timberwolves guard Kevin Martin $15, 000 for his obscene gesture during the loss to the Chicago Bulls the other night. After Martin hit a three-pointer with 1:37 left in the game to put the Timberwolves up 102-100, he did the "Sam Cassell dance" while running down the court.
Here it is:
Why is it called the "Sam Cassell Dance" you ask? Because he was the first one to do it and get fined.
"It's an obscene and inappropriate gesture, " a league spokesman told Grantland.
The best part about this fine/dance is Minnesota LOST THE GAME, LOL.  After Martin took the lead with his three pointer, Andrew Wiggins fouled Jimmy Butler with 0.2 seconds left and sent him to the line. Butler made both of them and Minnesota lost the game.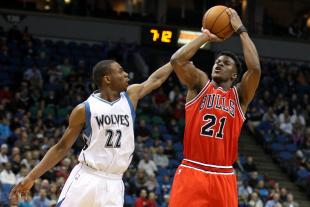 Save the celebrating for your wins Martin, you may not have many of them this season.
Marco Bellinelli was also fined for this same gesture when he played for the Bulls back in 2013. He had to pay $15, 000 as well… but his was way better.
It's pretty clear that the NBA does not like any reference to testicles, Martin's celebration was hardly worth $15k.