Who's The Marlins Fan At The World Series?

If you are watching the World Series and are paying attention to the fans behind home plate, you have probably noticed a man wearing orange Miami Marlins gear. Maybe you have spotted him at other games this postseason, as he was at the Royals-Orioles series and in San Francisco for the NLCS.
So who is this guy? Is he aware he has the wrong MLB gear on?
Meet Marlins Man!
Marlins Man travels to important sporting events throughout the country. His real name is Laurence Leavy, and he is a fan of, you guessed it, the Miami Marlins. He has been to numerous postseason games this year, and is a season ticket holder of the Marlins.
Good Guy
He also has another set of incredible seats open for families coming to the Marlins games. Laurence will stand outside of Marlins Park before first pitch to pass out his tickets to give to families, as a way to give back to the Marlins community. That would be awesome, to walk up towards the gate and see a guy giving away awesome seats for you and your family!
He was at the NBA Finals too. And he was hanging out with Miguel Cabrera!
So why he goes to all these games, I do not know. But it's pretty cool and he is making a name for himself. Enjoy watching the World Series and him! You can also follow him on Twitter here.
Comparisons
I'm reminded of other sports fan icons at ballparks. In Chicago, there are a few men who sit at Wrigley Field and U.S. Cellular Field behind home plate.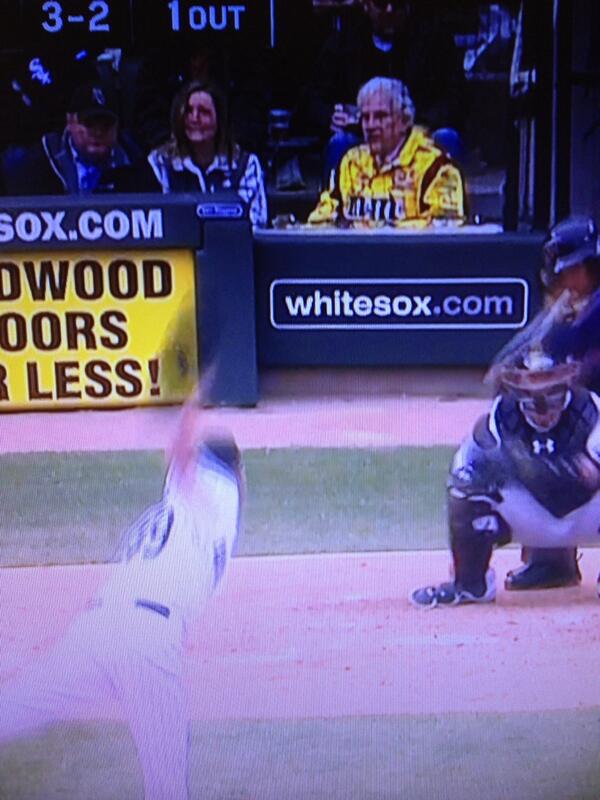 Every notice these guys? They are at almost every game for both the Cubs and White Sox. It must be nice to have the best seat in the house, although you do have the net in front of you. So next time you watch Chicago baseball on TV, look out for "The Pink Hat, Green Polo Guy" and "The Nascar M&M Jacket Guy".
635 total views, 157 views today