The highlight of the weekend for University of Illinois athletics wasn't Wes Lunt's four touchdown performance. Neither was the volleyball team, ranked 11th in the country, sweeping all three of their opponents, including #20 North Carolina. The highlight of this weekend was Jalen Brunson, the top point guard in the Class of 2015, taking his official visit to Illinois.
Friday
Brunson and his family arrived mid-morning on Friday. They attended the first set of "Stuff Huff", the volleyball home opener. The atmosphere was electric. Mike LaTulip was with Jalen throughout most of the weekend, including the volleyball game. You can see the two in the picture below. (Jalen is wearing a grey USA shirt.)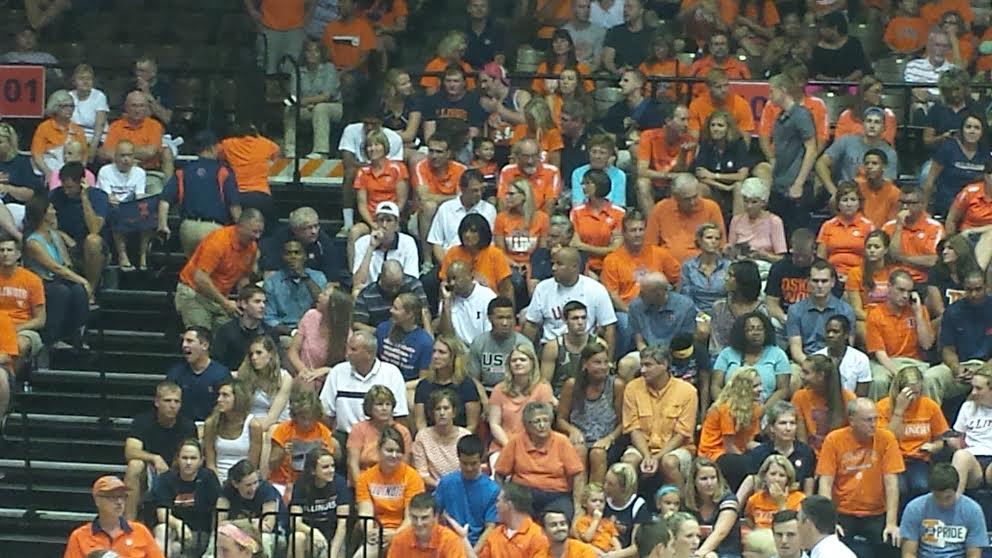 Saturday
On Saturday, Brunson attended the Illinois football game against Youngstown State. He had the opportunity to meet with legendary Illini basketball coach Lou Henson.
Jalen Brunson meets Lou Henson in press box just now #Illini pic.twitter.com/5QAaDkvKeX

— Matt Daniels (@mdaniels_NG) August 30, 2014
During the game, the families of Michael Finke and Aaron Jordan talked to Rick and Sandra Brunson.
"John Groce is ultimately the most important figure in this recruitment. But Rob Jordan is the wild card.

Aaron's dad is sincere and lighthearted. But he's nobody's fool. His relationship with the Brunsons goes back years. His understanding of the process, and his faith in the direction of the program, may be the most important intangibles in determining the final verdict." – Rob McColley, Illini Report
Once Jalen arrived in Block I the students broke out in a "We Want Jalen" chant. Brunson and Mike LaTulip were a part of Block I during the halftime card stunts, along with Illinois' two current 2015 commits.
Update for you crazies: Jalen Brunson, Aaron Jordan, and DJ Williams were in Block I for card stunts and the Alma Mater

— The Champaign Room (@Champaign_Room) August 30, 2014
Following the game, Brunson worked out with his two potential future teammates: Aaron Jordan and D.J. Williams.
The remainder of Jalen's official visit went quietly, similar to way his recruitment has played out thus far. All though some fans were hopeful, Brunson did not commit on Sunday. He will be officially visiting Villanova the weekend of September 6th. He has an official visit scheduled to Temple the following weekend. Is Jalen going to Be the One for the Fighting Illini?
Just spoke with Jalen Brunson. He's not letting much out, but said "it was a great visit." Hopefully more to come soon #Illini

— Taylor Rooks (@TaylorRooks) September 1, 2014
Coming up for the Fighting Illini, point guard Jawun Evans officially visits the weekend of September 6th.
Jalen Brunson will announcing his college decision on Wednesday, September 10th.
Loading ...