Broncos wide receiver Wes Welker has been diagnosed with his third concussion in 10 months. His previous history with concussions suggests that he could be out for a while. Welker's last concussion had him out from December 9th 2013 until the Broncos first playoff game on January 12th 2014. If you have Welker on your fantasy team, he has turned into quite the gamble. When Wes Welker is playing, he is very dominant. But this Broncos team has some other options for Peyton Manning to throw to like Demaryius Thomas,  Emmanuel Sanders, and tight-end Julius Thomas.
Demaryius Thomas is still projected to lead the Broncos in receptions and touchdowns with 93 receptions for 1, 400 yards and 13 touchdowns. Welker, on the other hand, is only projected to reach 64 receptions, 776 yards, and only 6 touchdowns.
With 3 options on the Broncos offense that are projected to have better stats than Wes Welker, plus not knowing when Welker will be back, there may be some other options for your fantasy team if you do in fact have Wes Welker.
Michael Floyd, Arizona Cardinals
With Larry Fitzgerald on the downside of his NFL career, there is a wideout in Arizona that has the potential for big numbers: Michael Floyd. Floyd has made steady progress his first two years in the league competing for the number two receiver role with former teammate Andre Roberts. He pretty much has solidified that having the most receiving yards on the team (1, 041) despite having 24 less targets and 17 less receptions than Fitzgerald. Floyd should have plenty of opportunities to beat favorable coverage down field and rip off some game-breaking plays. He has excellent route-running skills that could help him even pass Fitzgerald as the team's most dangerous red-zone threat and that is a great fantasy asset.
Cordarrelle Patterson, Minnesota Vikings Second-year wide receiver and kick return specialist Cordarrelle Patterson made the Pro Bowl last year and showed off his explosive speed and versatile skill set in 2013, totaling nine touchdowns despite limited touches in the run and pass game. Patterson's fantasy value is clearly tied to him breaking the big play, which he does quite often. And with not many options for pass game in Minnesota, Cordarrelle Patterson should be a top performer. He racked up six touchdowns in the final month of the season while setting an NFL record last year as the first player to have a 100-plus-yard kickoff return touchdown, a 75-plus-yard receiving touchdown, and a 50-plus-yard rushing touchdown in the same season. If Patterson is still available, grab him while you can.
Markus Wheaton, Pittsburgh Steelers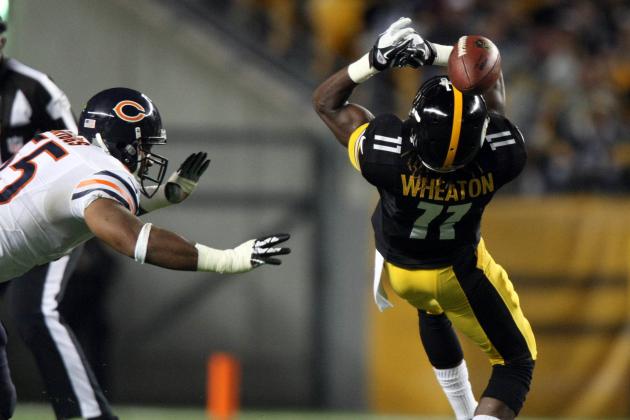 With Emmanuel Sanders and Jericho Cotchery both moving on to other teams, Markus Wheaton will get a lot more receptions, which means a lot more fantasy value. Wheaton should turn into the number 2 receiving option on the Steelers and his projected numbers show why: Nearly 125 targets and convert that into roughly 75 catches. That's a possibility for Markus Wheaton. And with a no huddle offense that the Steelers are wanting to run, along with an experienced quarterback in Ben Roethlisberger, Wheaton could become a consistent target for Big Ben and the Steelers offense.