The look I frequently receive when I introduce myself to a fellow Chicagoan as an Arizona Cardinals fan somewhat mirrors the look one would garner if he or she had a nail sticking out of their head. Growing up in a perpetually Bears-dominated city with remnants of Packers fans scattered here and there, you shouldn't be surprised of just how easily a kid in Arizona Cardinals attire stands out in public.
On June 23rd, I awoke to a plethora of texts from relatives and close friends informing me that one of my childhood icons, Adrian Wilson, had just signed with the Bears. My immediate response was a quick giggle as I murmured to myself "come on man, hang it up already."
As starting strong safety for the Arizona Cardinals, Wilson was the anchor to an otherwise poor secondary for nearly a decade. Specializing in run defense and off-the-edge pass rushing, the five-time Pro Bowler and three-time All-Pro who was never known for his coverage skills became a rare member of the 25/25 club (25 sacks and 25 interceptions) in 2012. 
After an injury-riddled 2007 season which cost him seven games, Wilson battled on-and-off injuries and was never fully healthy for his remaining tenure with the Cardinals. Though Wilson was rewarded with a 5-year $39 million contract in 2009, the effects of these frequent injuries began to manifest in his play – rendering the aging safety vulnerable to packages which removed him from the box and placed him into pass coverage situations. Similar to Bears fan's reaction to Chris Conte's poor play, the Arizona Cardinals faithful (yes that exists) began turning on the once-fan favorite. A conversion to linebacker was an idea passed around, but never came into fruition.  The 2011 and 2012 seasons saw Wilson limited to primarily non-passing down situations and following the 2012 season he was released.
A cup of tea with the Patriots led to Wilson being placed on season-ending IR with a severe hamstring tear. After being diagnosed with a condition known as Haglund's Deformity, Wilson opted for surgery to repair his Achilles tendon.
Adrian Wilson was an icon of mine growing up. The first shirt-jersey I ever owned was of a #24 Wilson Cardinals shirt. Even as a
"grownup" 24-year old the first thing that came to mind after discovering that the Bears had just signed him was how to politely go about asking Jordan Lynch to get his autograph for me. I never even considered the idea of Wilson making the 53-man roster let alone legitimately being considered for a starting spot.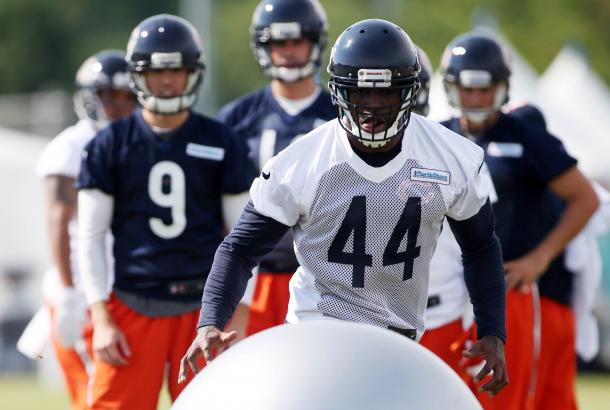 Here is my warning to you, Bears fans. Wilson is 13-seasons into his professional career. The prime of his career was right around the time that Rex Grossman directed the Bears offense. Wear and tear took its toll on the legs and foot speed of the veteran safety and reduced Wilson to run only situations by 2011.  That was three years ago. Now add a handful of minor injuries and two season-ending injuries to the equation. One could only wonder how much he has left. Its a miracle the 34-year old is still walking let alone playing football.
My point is, do not channel your inner-angry Bears fan and crucify the poor man if or when he under performs. Bears fans must see Wilson for what he is, a once-star player at the back end of his career. Use him accordingly while he is here. Through 13-years the man has seen it all. From 3-13 seasons, to 8-8 seasons, all the way to Super Bowl seasons. Wilson is a bonified leader and would make for an ideal mentor to a young and inexperienced Bears secondary.
Don't expect Wilson to start. But if he somehow does, know this: the Bears secondary concerns are much, much worse than previously believed.
---
Featured Photo: Bear Goggles On
Photo: Bleacher Report
(Visited 1 times, 1 visits today)